Butterfly Insight
~Imagination*Inspiration*Illumination~
Insight into the world of butterflies
The Butterfly Shop - Butterfly Figurines
Unique and inspirational butterfly related products
"Wings Of Hope" Butterfly Sculpture:
(Breast Cancer Awareness )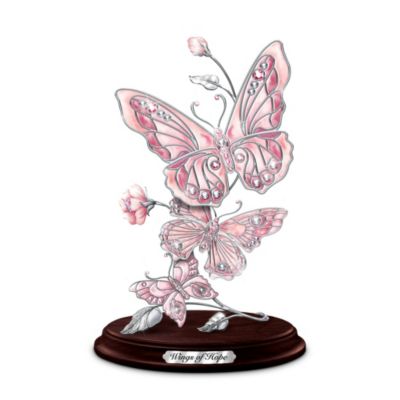 Ethereal, fragile, yet amazingly strong, butterflies have long symbolized hope, change and new beginnings. Now these winged beauties inspire a breathtaking sculpture that benefits breast cancer awareness. Introducing the "Wings of Hope" Butterfly Sculpture, an exquisite design available exclusively from The Bradford Exchange. Best of all, a portion of the proceeds from each edition sold benefits the fight against breast cancer.
Smitten Crystal Kitten And Butterfly Figurine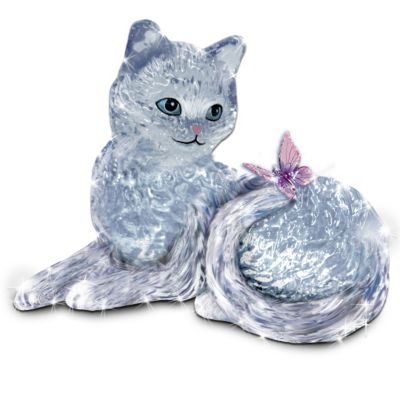 Share a moment of pure enchantment with a first-of-a-kind kitten and butterfly figurine, exclusively from The Bradford Exchange. This adorable kitten has met a new friend as curious as she is - a breathtaking little butterfly! The delicate art glass butterfly sparkles with glitter accents and adds a touch of vivid color to this precious kitten figurine.
Medium Butterfly with Amber Wings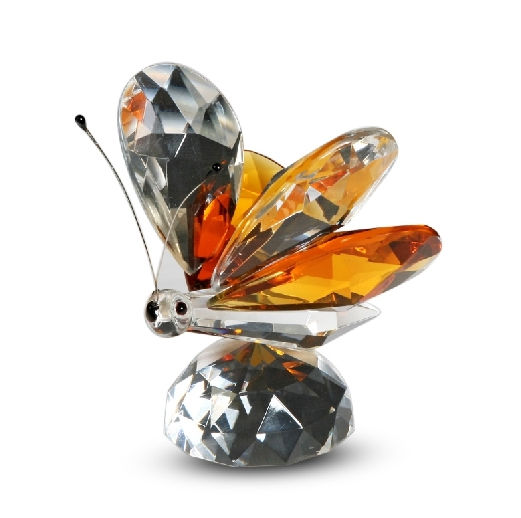 Each graceful butterfly is individually formed and faceted by hand. A delightful gift for any butterfly fancier you know. Comes in 2 sizes (med /lrg.) and 5 colors - Clear, Amber, Blue, Red and Pink. This one is Amber and Medium - by Crystal Florida.
Large Butterfly with Blue Wings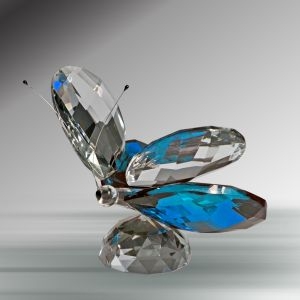 Item is Gift boxed and comes with a Certificate of Authenticity from Crystal Florida. Latest Addition to our catalog! Each graceful butterfly is individually formed and faceted by hand. A delightful gift for any butterfly fancier you know. This one is Large and Blue. Size: 2-3/4 .
Native American Inspired "Butterfly Dreamer"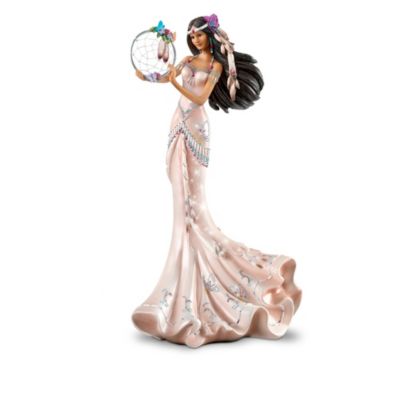 Graceful 10-1/2" high Native American-inspired maiden figurines are hand-painted in delicate detail with flowing gowns, feathers, unique accessories.
Louis Comfort Tiffany-Inspired Swarovski Crystal Hanging Sculpture Collection: Whispering Wings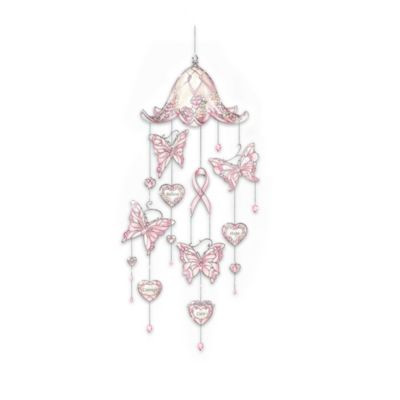 Symbols of beauty and the designs of Louis Comfort Tiffany are the inspiration for this limited-edition crystal hanging sculpture collection, only from The Bradford Exchange. Combines flowers, butterfly "messengers" and pink ribbons. A portion of the proceeds will be donated to breast cancer research.
Love's Journey Sculpture Collection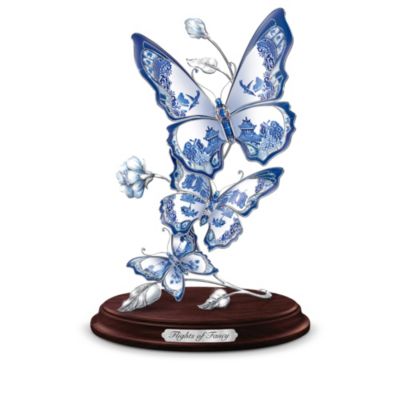 Smart shoppers realize the unparalleled value in handcrafted collectibles and fine jewelry designs. Meticulous artistry, limited editions and exclusive offers are the hallmark of The Bradford Exchange Online.
Winnie-the-Pooh with Butterfly Friend Statue


Woods International. Durable polyresin outdoor statue. Fully painted in bright colors. Dimensions: 18.5"H x 12"W x 10.625"D.
Solar Garden Statue - Puppy and Butterfly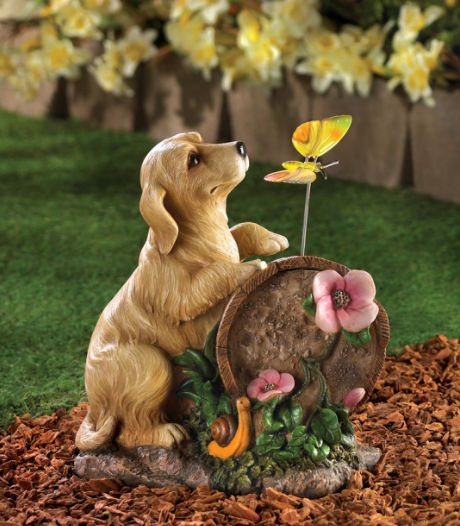 A playful pup and his butterfly pal make merry in the summer sun, adding an air of innocence to your outdoor decor. Solar light-up accents let you continue to enjoy this charming statue after dark! Resin. Solar powered battery included. 10 x 7 x
Butterfly Dreams Platinum Series Figurine - x2


Bring a delicate flutter of color to your home with our Butterfly Dreams Platinum Series by AngelStar. This enchanting piece who is holding a full color butterfly in her hands will breath new life in to any room you place it. Angel is 4" high and made of high quality resin stone. Dimensions: 5"L x 6.5"H x 5"W. Pack of 2.
Lenox Butterfly Meadow Insect Figurine (Set of 3)


These cute Butterfly Meadow garden sculptures will be a delightful addition to your kitchen windowsill, table, shelf or curio cabinet. There's a winged butterfly and dragonfly, and a polka-dotted ladybug - each paired with a colorful flower. Height of tallest: 2 1/2". Crafted of earthenware. Includes a dragonfly, butterfly & ladybug.
FREE Gifts with Purchase
Butterfly Shop Home